Your Speed Queen laundromat
The Speed Queen laundry concept is a proven business model and a true partnership. There is no business like a laundromat business.
• How to start a laundry business
We give life to your project: we are with you from the original business idea to the store opening. Speed Queen's experts help you with the location analysis and site selection, facility design and equipment selection, and also with the whole laundromat business plan. If necessary, Alliance Laundry Systems Group financial services can even offer industry-leading, laundry-focused financing.
Note: Of course, we also take care of your laundry machines!
• Replace a laundromat franchise
'They don't make them like they used to. We do.' The matter is not always about how to start a laundry business but to convert an existing one, whether a franchise or not. Opting for Speed Queen professional washing machines means you will reduce your operating and maintenance costs as well as any breakdown time. Our cutting-edge and reliable laundromat equipment and the proven business model of the Speed Queen concept are factors which affect positively customer satisfaction and lead to their loyalty. Both starting a new laundromat and purchasing an existing one have proven to be successful investment models with Speed Queen.
• Self-service laundries
The concept of modular Speed Queen laundromats has proved to be a highly profitable business model. Firstly, because it requires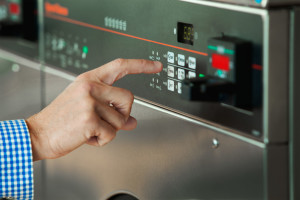 virtually no labor costs. Indeed, the advanced technology of Speed Queen washers allows full remote management, reducing the need for physical presence within the store. The laundromat modules alsooffer incredible flexibility as they can be moved in a few days.
Note: Being compact, the modular format is ideal for installations on supermarkets or shopping centers' car parks.