Speed Queen,
World n°1 in laundromat business
"Speed Queen: a proven performer"
Speed Queen has been manufacturing commercial laundry equipment for over 100 years, and so it is today the world's No. 1 in the laundromat business. Speed Queen washing machines and dryers have outperformed and outlasted the competition, delivering outstanding results, load after load.
At the cutting-edge of technology, Speed Queen offers innovative and interactive features that make its machines simpler and more intuitive to use. Ergonomics and design are also thoroughly studied to optimize the daily use of its whole range of products.
Laundromats, profitable business
Speed Queen is a proven performer on the global stage. The company's machines have proven themselves in homes but also and above all in commercial laundry where the ability to perform day in, day out, without interruption is essential, and where the build quality of the equipment affords maximum performance and minimum downtime. This is why Speed Queen is the number one choice for laundromat operators in the United States, with its concept now being exported worldwide. Through its expertise and long experience, Speed Queen offers a personalized service and support to its investment partners to create profitable laundromat businesses, requiring only a limited investment.
Making Money with a laundry business
By choosing Speed Queen, you get the quality and expertise of the world N ° 1 in the laundromat business. Our experts accompany you throughout the process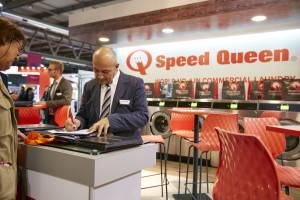 up to the creation of your store. It is a turnkey business, simple and accessible to all!
Contact Speed Queen consultants to find out how to make money with a self-service laundry business.
You can join Speed Queen's worldwide success too!